Support digital library collections: Donate now to build our OverDrive Advantage collection of downloadable ebooks and audiobooks
If you love libraries, support them now in a way that will help them forever.
Through The Campaign to Enhance Public Libraries, the SCLS Foundation raises funds for public libraries throughout our SCLS Community to expand their excellent services.
Paint it Forward Fundraiser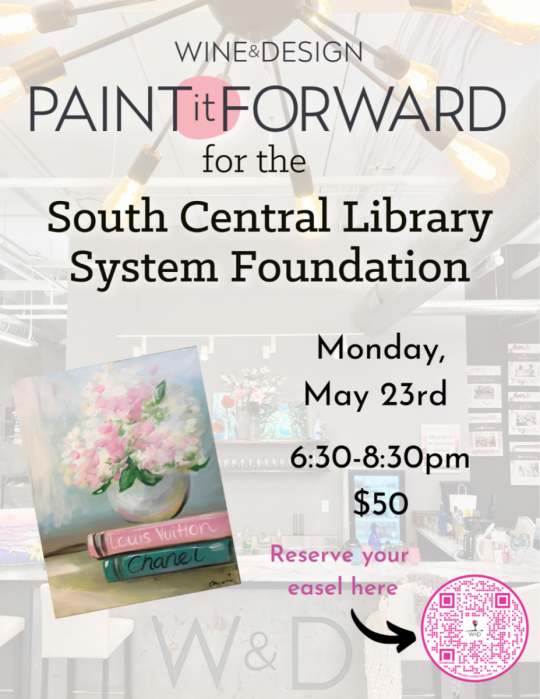 Participate in the Paint it Forward for the South Central Library System Foundation fundraiser at Wine & Design, 167 S Fair Oaks Ave. Madison on Monday, May 23 from 6:30pm – 8:30pm. Cost is $50 per person. Optional food add-ons are available. More information & registration. 
"Libraries are like tree houses—excellent places to dream, to learn, and to share with friends. There's nothing like a cozy library on a rainy Saturday."
—Katharine C. Lyall,
Former President of the University of Wisconsin System
"For me, it is not only the Bill of Rights, or a free press, but a free public library system that makes us Americans. Anyone with a dollar and the ability to sign on the line receives the same privilege and respect as the most exalted member of society—even if that person has newspaper in her shoes. He can take an expensive book, purely on trust, and honor, and learn or enjoy when other forms of learning or enjoyment are not possible. As a widow with no money and young children, the library was my salvation. As an author, it was my treasure trove. As a citizen, it is my pride. Being part of this committee is as natural to me as reading."
—Jacquelyn Mitchard
Author