Columbus Public Library Adapts to Challenges Posed by Pandemic
by Peter Kaland
SCLS Foundation Board
The pandemic posed many changes and challenges as to how libraries served their patrons. The South Central Library System Foundation Board wanted to acknowledge the perseverance of our libraries and highlight how they adapted to the pandemic.
Image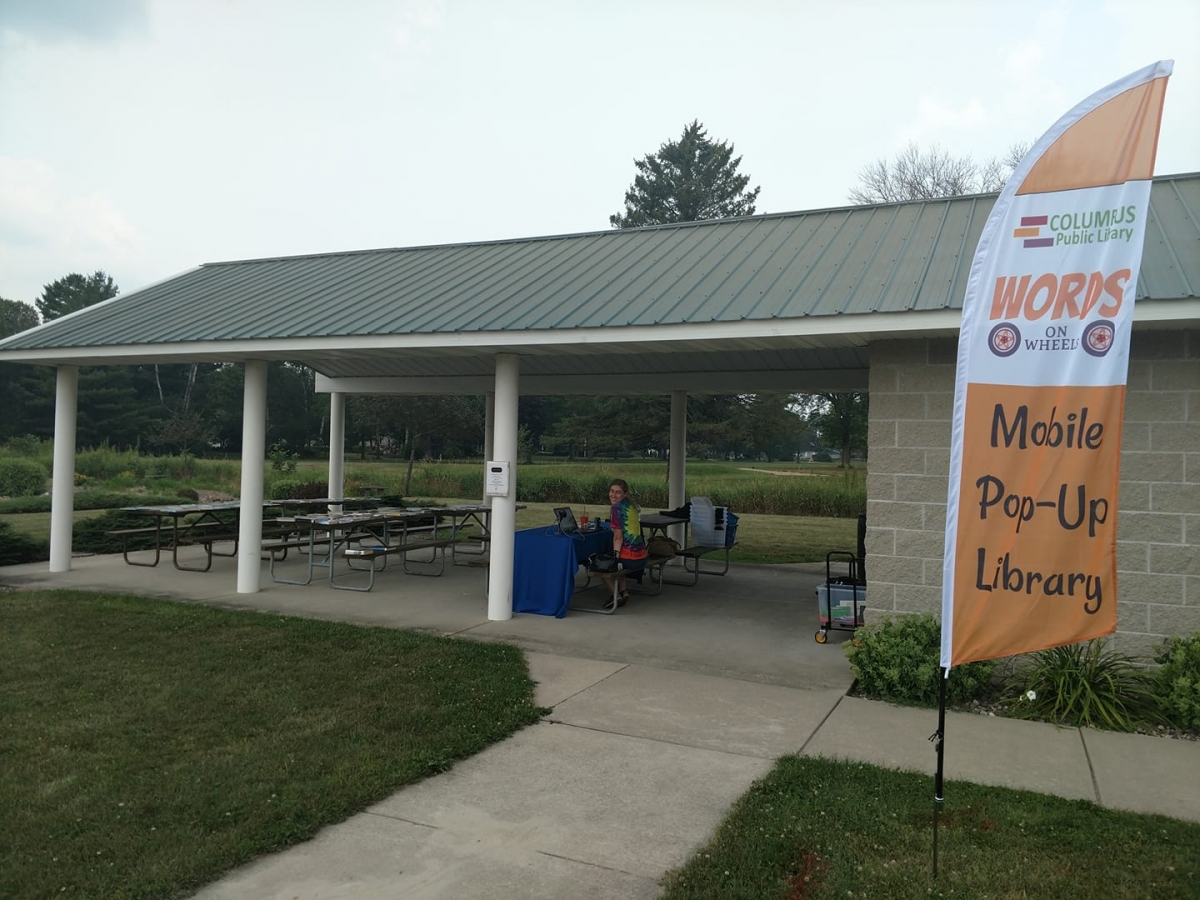 The 
Columbus Public Library
 was closed for a period of time, but adapted by offering curbside pickup to patrons, scheduled appointments as needed, and worked to serve patrons while doing their best to provide a safe environment. 
Due to the pandemic, patrons were limiting their visits and staff worked on creative ways to reach patrons. The Library began offering virtual programs and take-and-make kits for all ages, which were very popular. Staff created a video tutorial for the adult take-and-make monthly craft. Our children's librarian, Bethany, made STEM (Science, Technology, Engineering & Math) videos and video tutorials for a monthly "game spotlight." The library also purchased a new board game each month for children and families to check out and take home to play.
In the summer of 2020, the Columbus Library offered a new service of a mobile pop-up library called "Words on Wheels" (see photo). This program offered a chance for families to check out materials outdoors in a safer environment. The library brought a variety of books, movies, audiobooks and DVD's for all ages to Fall River. This summer the program expanded to include an outdoor storytime and check location in a Columbus city park.
Image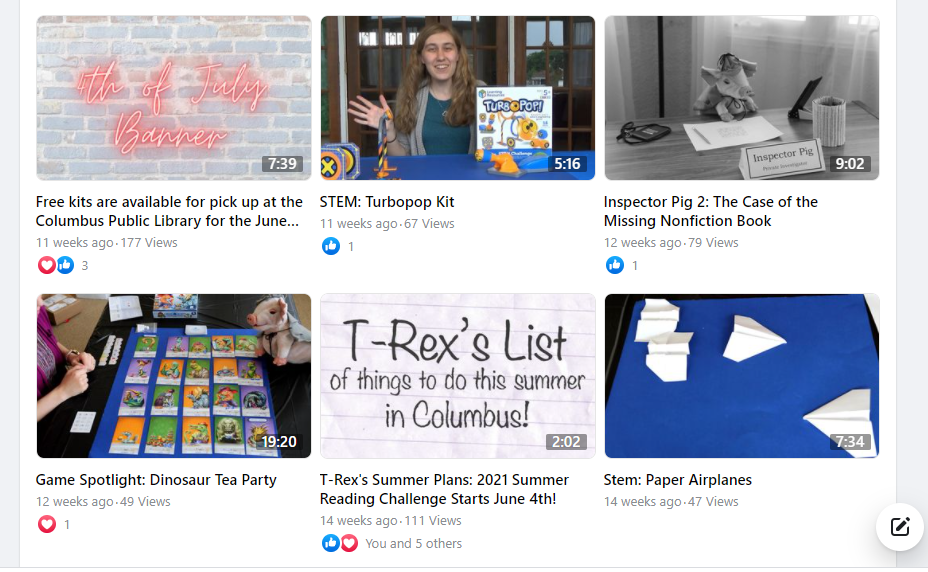 The Columbus Public Library has also taken a leadership role during the pandemic by presenting and organizing the idea of county-wide collaborative virtual programming. The "Virtual Project" was created by a committee of Columbia County Directors. With combined resources from Columbia County libraries virtual events were available to Columbia County residents. The project held 11 events with 313 patrons participating.
The Columbus Library and the Columbus Cable Commission partnered for a project to create "Inspector Pig," which won an achievement award in the "Best of the Midwest Media Fest" for the joint project. The short film was created to entertain patrons, inform them of library services, and highlight the helpful staff at the library.
Cornerstone Receptions Honor All SCLS Library Workers
by Theresa Walske, President
SCLS Foundation Board
Image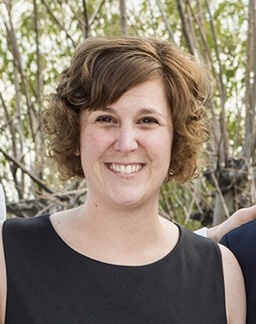 This year the Cornerstone award is given to a number of wonderful and most deserving recipients, the staff of South Central Library System (SCLS) member libraries and SCLS staff.
We acknowledge and celebrate these dedicated librarians, library staff, and experts at the South Central Library System.  They were able to monitor health guidance, plan, and pivot when new information was learned about the public health emergency. Their perseverance to maintain library services was a bright light for our communities. The impact was far reaching.
The two receptions (Sept. 20 in Wisconsin Rapids and Oct. 7 in Monona) will recognize this dedication, spirit, and fortitude! More information about the receptions is available in the article below.
Thank you for all you accomplished during a very unusual year. 
The Cornerstone receptions provide an opportunity for the community to pause, reflect, and make a financial contribution to the South Central Library System Foundation. The dollars you contribute stay in our community and invest in the future of the library system.
Join me in sharing gratitude and appreciation by making a donation to South Central Library System Foundation. You may make a contribution online or through the mail.
Cornerstone 2021: Receptions In Wisconsin Rapids & Monona!
Image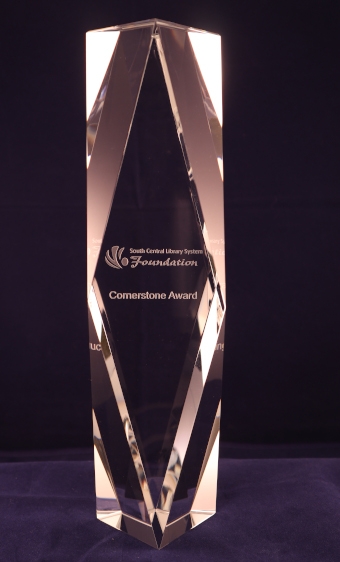 This year's Cornerstone Reception will recognize staff at all SCLS member libraries and the South Central Library System that have been working tirelessly to be a haven in the pandemic storm. The South Central Library System Foundation wants to recognize this work and the tireless efforts. Therefore the 2021 Cornerstone is for YOU!
There will be two events to allow everyone access to a convenient location. Staff may attend one or both events at no charge Both events will be held from 5:30-7:30 p.m. and will feature free hors d'oeuvres and non-alcoholic drinks and a cash bar.
Sept. 20, 2021
Bullseye Golf Club in Wisconsin Rapids
2800 Ridgewood Trail, overlooking the Wisconsin River (map)
Oct. 7, 2021
Buck and Honey's in Monona
800 W Broadway, Suite 300, overlooking the Yahara River (map)
Corporate sponsors for the 2021 Cornerstone Reception are Delta Properties, Envisionware, First Business Bank, Hausmann-Johnson Insurance, OverDrive, PTFS LibLime, and St. John Properties. Visit the awards page for information about past award recipients.
Foundation Fund Performance
As of July 15, 2021, the fund balance was $4,635,665, of which $300,637 was held on behalf of the Foundation and the remainder for libraries. 
The gross return since inception on Dec. 1, 2012, is 9.02% and the one-year return was 23.42%.
For more information about investing with the Foundation, please contact Martha Van Pelt, SCLS Director, at (608) 246-7975 or mvanpelt [at] scls.info.
Foundation Contributors
These people have donated to the SCLS Foundation since May 1, 2021. The category in which each is listed represents their total Foundation contribution to date.
Legacy – $10,000 +
First Business Bank
Steward – $4,999 - $1,000
Bob Blitzke & Jane Grogan
Brinnan Shaffer
Theresa Walske
Advocate – $999 - $500
David Shaw
Friend – $249 - $100
Julie Bogle, in memory of Geraldine Schlecht
Suma Elwell
Nancy Foth