Monroe Fundraising Campaign Tops $1.5 Million
by Gary Neuenschwander
Monroe Public Library Trustee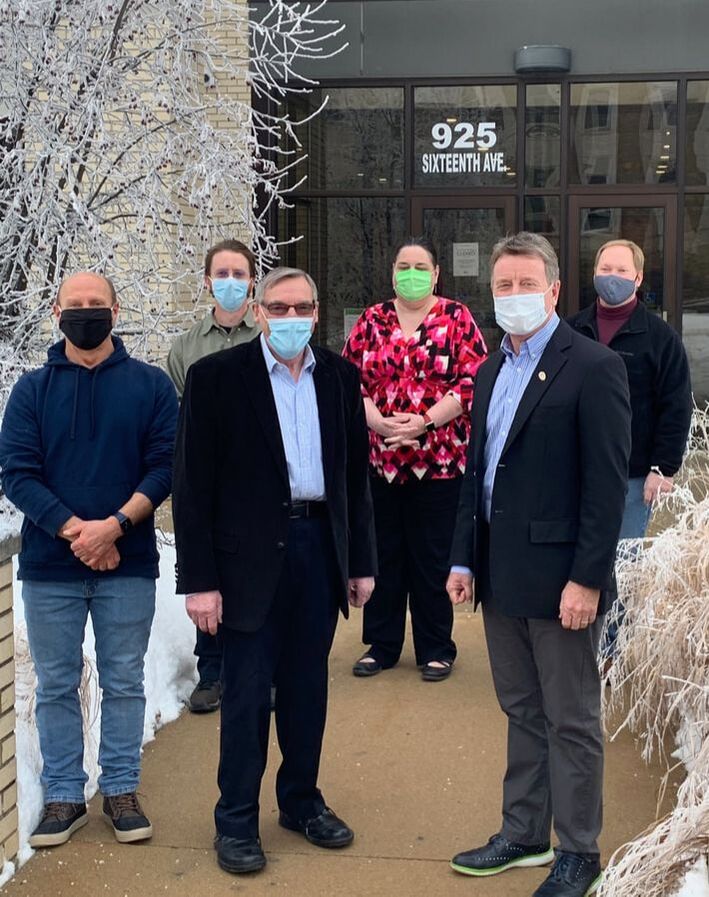 It was an extraordinary effort almost 10 years in the making.
But thanks to the citizens of Monroe, a $1.5 million fundraising campaign for renovations to the downtown library exceeded its goal.
Nearly 10 years ago, the library's Board of Trustees broached the subject of a facelift for the 25-year-old facility. While fully functional, the building was losing its luster, and the furniture and paint were showing significant wear. The library's public spaces were examined, and a plan devised for optimal utilization of space without major remodeling and using funds on hand.
Cosmetic changes, however, didn't solve space shortages. Additional meeting space was sorely needed, the building's technological footprint had changed since its opening and changes in the Americans With Disabilities Act (ADA) left the building out of compliance on certain issues including accessible restrooms and safety standards on the center stairway. If structural changes were made, the first requirement was to bring the facility up to current ADA code.
Photo Caption
Major Donors and Library Representatives. Pictured front (l-r) are Ron Buholzer of Klondike Cheese Co. and John Baumann of Colony Brands Foundation. Back (l-r) are Library Board Trustees Jim Plourde and Dan Harrigan, Library Director Suzann Holland, and Library Board Trustee John Tabaka.
Trustees felt that remodeling required additional time to assess needs, wants and a way to pay for them. Dimension IV, a Madison design firm, was hired, needs were identified and the task of transferring those needs into the building's footprint began.
Then came the issue of funding. The Sweeney Group of Madison came on board to help a core group of volunteers plan, develop and execute the campaign. The result? A $1.5 million campaign called "Let's Do Something Extraordinary for Monroe."
Just as things were moving along, the unforeseen happened. COVID 19. Everything stopped. For months. And when things started to move again, another challenge popped up; this time an increase in building costs.
Still, the community responded. Colony Brands Foundation and Klondike Cheese Co. kicked off the campaign with a $500,000 challenge gift—for every $2 raised, they gave $1, up to $500,000. When the challenge was met, they gave an additional gift. The family of Lee and June Geiger who purchased the building 25 years ago and gifted it to the school district for use as a library, donated $250,000 in their memory. A group of "100 Extraordinary Women" banded together, each pledging a gift of $1,000. The list goes on.
But, more importantly, the citizens of Monroe responded individually. Families pledged donations; gifts were made in memory of loved ones; and children contributed and rallied for the campaign. All told, more than $1.7 million was raised in approximately three months.
Now the work begins. Plans are being finalized and it is hoped work can begin in early 2022.
"The response from the citizens of Monroe from the very beginning has been overwhelming," according to library director Suzann Holland. "It shows that the people of Monroe value the library and want it to be the very best it can be."
Care And Commitment Creates Something Wonderful
by Theresa Walske, President
SCLS Foundation Board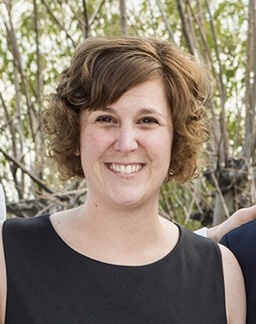 Remember showing up at family's house for Thanksgiving and everything was perfect. It smelled so good and looked so effortless. But that was not the case. There was planning, making lists, cleaning, baking, checking lists again and running to the grocery store again. It takes care and commitment to create something wonderful for the individuals you care about.
Libraries are this way. To walk into a library is to walk into a wonderment of joy. The books are shelved, the computers are waiting, the children's section is welcoming, and the staff is ready to support you with what you need. But this requires planning, making lists, cleaning, sanitizing, moving red boxes full of books, and checking lists again. There is so much planning that goes into making a library function. It takes care and commitment to create something wonderful for the individual you care about, your community.
This season I am grateful for the South Central Library System and the blessing it has been in my life. I am grateful for the commitment of librarians, library staff, library boards, Friends of the Library, and the South Central Library System staff for their continued dedication to our communities. I am grateful for the individuals and companies who invested in the South Central Library System this year through the Cornerstone.
If you have not made your contribution yet, there is still time. You may make a contribution online or through the mail.
SCLS Foundation Contributes to OverDrive Advantage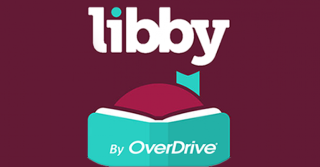 Each year, the South Central Library System (SCLS) Foundation (SCLSF) allocates a certain percentage of annual contributions to projects that benefit all member libraries. For 2021 the SCLS Foundation allocated $4,307.71 to be spent in support of projects that directly benefit SCLS member libraries, and the remaining unspent funds ($1,500) were used to purchase additional OverDrive Advantage titles to enhance the system-wide digital collection and help reduce hold times for library patrons. OverDrive usage data by library is available on the SCLS Data dashboard.
In addition to the OverDrive Advantage titles, this year the Foundation money was used for a variety of smaller projects. First, SCLSF purchased public address (PA) equipment for two mobile kits that libraries can borrow for public programs indoors and outdoors. Each kit includes three different portable PA units.
One in a wheeled case
One in a shoulder bag
One that features a belt clip
The second item of technology SCLSF purchased for loan to libraries is a new Cricut digital cutting tool to complement the Cameo Silhouette kit that will be available soon for loan to libraries. Like the Cameo units, it can be used to cut paper, fabric, plastic and light wood for various craft programs and projects.
SCLSF also purchased two new iPad Minis and tri-pod mounts, one each for use with the cooking and baking kits. SCLS had borrowed two iPad Minis from the Stop Motion Animation Kits, and these have been returned for their original purposes.
SCLSF also put a portion of the funds toward the purchase of earbuds with microphones that library staff can use when participating in virtual meetings and training sessions.
Foundation Fund Performance
As of Oct. 31, 2021, the fund balance was $5,816,796.51, of which $309,275 was held on behalf of the Foundation. Delete rest of sentence and the remainder for libraries. 
The gross return since inception on Dec. 1, 2012, is 8.71% and the one-year return was 17.22%.
For more information about investing with the Foundation, please contact Martha Van Pelt, SCLS Director, at (608) 246-7975 or mvanpelt@scls.info.
Foundation Contributors
These people have donated to the SCLS Foundation since Aug. 6, 2021. The category in which each is listed represents their total Foundation contribution to date.
Legacy -- $10,000 +
Phyllis Davis (in honor of all the library workers throughout SCLS)
Delta Properties
Benefactor – $9,999 - $5,000
Janet & Tom Pugh
Steward – $4,999 - $1,000
Bob Blitzke & Jane Grogan
Lauren Blough
Larry Martin & Martha Cranley (in honor of Peter Hamon)
Mark Miler
Claire Rynders
Theresa Walske
Woodman's Food Markets
Advocate – $999 - $500
Andy's Heating & Cooling
Anonymous
Bob Bocher & Mary O'Connor
James & Nancy Dast
Jaime Healy-Plotkin
Mark Ibach (in memory of Francis Cherney)
Nancy Long
Oriental Shop
Gary Poulson
Kristi & Roger Williams
Patron – $499 - $250
Phil & Judith Cox
Tana Elias (in honor of Mark Ibach–Happy Retirement!)
Mary Nelson (in memory of Francis Cherney)
Friend – $249 - $100
Brigitte Vacha
Illumina Foundation
Supporter – $99 - $50
Joyce Apfel (in honor of Radha Sijapati)
Robert & Linda Bruun (in honor of Jed Seidl & Mitzi Jennings)
Sponsor – $49 - $1
Anonymous
Susan Barthel