Kraemer Library and Community Center
By Nicholas Studnicka
Image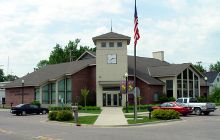 Library Director & SCLS Foundation Trustee
It has been a trying couple of years, but we are slowly going back to a more normal routine here at the library. This past fall, the library went back to in-person storytime and started to host our popular program for seniors. The Senior Lunch and Movie focuses on providing a light meal followed by a movie matinee. The movies range from new releases to classics such as Holiday Inn. This program happens on the third Thursday of the month, running September through May, and attendance ranges from 20 to 30 individuals.
On another note, the Kraemer Library Board, at its October Board meeting, acknowledged Pam Severson and Sheila Pulvermacher (nieces of Elsie Haas). They presented a portrait of Elsie Haas painted by Jan Biggers to the library. The portrait will hang in the new meeting room that was created by funds bequeathed to the library from Elsie Haas's estate.
The Plain Public Library Board hired Mrs. Haas in 1964 as the librarian. She served as the library director until her retirement on December 31, 2003. She started as the Library Director in two temporary rooms in the Kraemer building that is located on Highway 23 and Main Street. In June of 1966, the library moved to its second location in the newly constructed Plain Municipal building. For the next 36 years, Elsie Haas was involved with the ever-increasing activities at the library. In June 2002, Elsie found herself in charge of another library move. With the help of her staff, they had the monumental task of moving the collection to the beautiful new Kraemer Library and Community Room facility. Elsie oversaw the library collection change from merely books, magazines, and periodicals, to record albums, audiotapes, CDs, toys, VHS- tapes, and eventually DVDs. She saw the advent of a few computers for patron use increase to a room full.
The Kraemer Library and Community Center will be celebrating its twentieth anniversary in our current building. We hope to host several events this summer to commemorate the occasion. The library and village will also be completing several improvements to the building, which is showing its age. The Village of Plain will be putting on a new roof in the spring. The library will be creating a new outdoor patio area as well. Also included in these improvements are the replacement of the aging furniture in the children's area and replacing the staff office chairs.
Wisconsin Library Legislative Day
by Theresa Walske, President
Image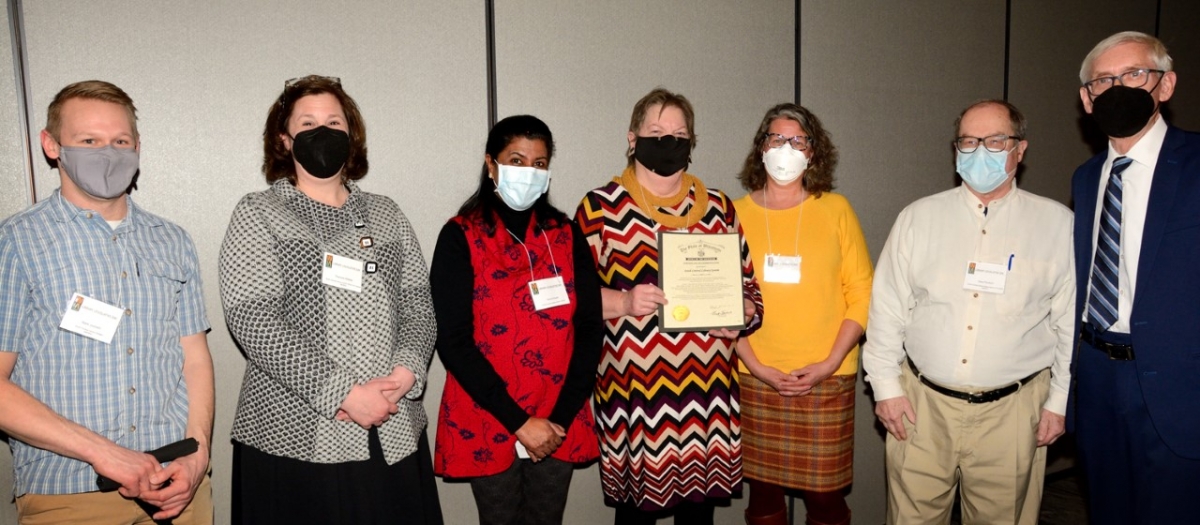 SCLS Foundation Board
In February I participated in the Wisconsin Library Legislative Day, a day to meet our elected officials and share the importance of libraries to our communities. There is so much to be proud of our library system. Through the pandemic our libraries have been a source of stability from friendly words from librarians, availability of books and materials, hope supplied through community projects, computers to complete unemployment applications and job application, and wi-fi that extended to the parking lots allowing for participation in work, school, and medical appointments. These are just a few of the tremendous contributions to our communities. 
I encourage you to reflect, what has your library meant to you and your community? I invite you to take three action steps.  First, thank your librarian and library staff for all the good work they do on a daily basis. Second, call or write your State and Federal elected officials to remind them of the importance of libraries and how your library helped you and your community during the pandemic.  Finally, join me in making a donation to the South Central Library System Foundation. This can be done online from the Foundation website or through the mail.
On behalf of the SCLS Foundation, thank you to all the librarians, library board members, volunteers, and SLSC professionals who make a difference every day as you serve our patrons and communities.  You make a difference.
Photo Caption: 
Pictured from left to right: Mark Jochem (SCLS), Theresa Walske (SCLS Board Trustee and SCLS Foundation Board President), Suma Menon Elwell (SCLS Board Vice President), Martha Van Pelt (SCLS Director), Vicki Teal Lovely (SCLS) , Gary Poulson (SCLS Board President), and Governor Tony Evers.
Foundation Fund Performance
As of January 31, 2022, the fund balance was $6,042,657.29, of which $299,520 was held on behalf of the Foundation. 
The gross return since inception on Dec. 1, 2012, is 8.89% and the one-year return was 10.65%.
For more information about investing with the Foundation, please contact Martha Van Pelt, SCLS Director, at (608) 246-7975 or mvanpelt [at] scls.info.
Foundation Contributors
These people have donated to the SCLS Foundation since March 1, 2022. The category in which each is listed represents their total Foundation contribution to date.
Legacy -- $10,000 +
Peter & Ann Hamon
Denise Marino & Herb Paaren
Benefactor – $9,999 - $5,000
 
Steward – $4,999 - $1,000
Bob Blitzke & Jane Grogan
Karen Faster
Dave Odahl
Theresa Walske
Advocate – $999 - $500
 
Patron – $499 - $250
Tana Elias (in honor of Jody Hoesly)
Friend – $249 - $100
Kathie Burman
Kathleen Christpoh
Marilyn Huset
Supporter – $99 - $50
Susan Barthel
Melody Miller
Sponsor – $49 - $1